Posts for tag: tooth decay
By George A. Solier, DDS, LTD
October 05, 2019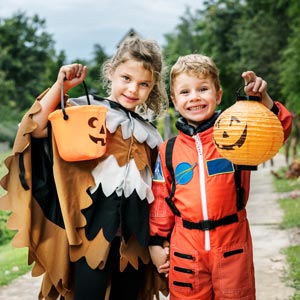 $9.1 billion: That's how much we Americans spent in 2018 on Halloween festivities, according to the National Retail Federation. And a sizeable chunk of that was for candy—a whopping 600 million pounds worth. That, my friends, is a lot of sugary goodness. For kids, it's what Halloween is all about—scoring a sack full of sticky, gooey, crunchy candy. For parents, though, all that sugar raises concerns for their kids' dental health.
That's because of something that loves sugar as much as little humans: oral bacteria. The more these microscopic creatures consume, the more they reproduce, which consequently leads to more mouth acid, a by-product of their digestion. Elevated acid levels can dissolve the mineral content in enamel and create the conditions for tooth decay.
To cut to the chase, excessive candy consumption increases the risk of tooth decay. Short of banning candy and ruining your kids' holiday fun, what then can you do to lower that risk this Halloween?
Here are a few tips:
Limit candy to mealtimes. The mouth's acid levels tend to rise while we're eating. The body counters with saliva, which has the capacity to neutralize acid and restore lost minerals to enamel. But if your kids are snacking on sweets over a long period, saliva can't get ahead of the recurring waves of acid. So, try to limit your kids' candy consumption to a few pieces at mealtimes only.
Don't brush right after eating candy. The short period during and after eating of high acid levels can still soften tooth enamel. If your child brushes soon after eating candy, they could also remove tiny bits of softened enamel. Instead, wait at least 30 minutes to an hour before brushing to allow saliva time to remineralize the enamel.
Encourage alternatives to candy as Halloween treats. While candy is a huge part of Halloween, it needn't have a monopoly on all the celebratory fun. So, encourage your little tricksters to accept—and their treaters to provide—other kinds of treats like small toys, glow sticks, or other items that count as treasure to children (be sure they're age-appropriate, though).
Halloween is a great time of family fun, and candy may always play a prominent role in the merriment. Just be sure to practice moderation with sweet Halloween treats to avoid dental problems down the road.
If you would like more information about how to manage your family's sugar consumption for optimum dental health, please contact us or schedule a consultation. To learn more, read the Dear Doctor magazine articles "The Bitter Truth About Sugar" and "Nutrition & Oral Health."
By George A. Solier, DDS, LTD
May 18, 2019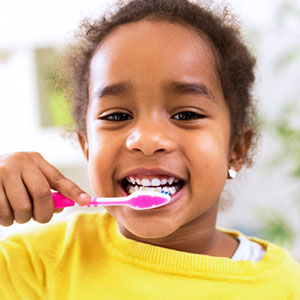 While dental diseases tend to be a greater concern as we get older, they also pose a potential threat to children. A particular type of tooth decay called early childhood caries (ECC) can severely damage children's unprotected teeth and skew their normal dental development.
Fortunately, you can protect your child's teeth from disease with a few simple practices. First and foremost: start a hygiene habit as soon as possible to remove disease-causing bacterial plaque. You don't have to wait until teeth appear, either: simply wipe the baby's gums with a clean wet cloth after nursing to minimize the growth of oral bacteria.
When their teeth do begin to erupt, you can switch to brushing (you can add flossing as more teeth erupt—but until the child shows appropriate dexterity, you'll need to do it for them). For infants, brush gently but thoroughly with a soft-bristled brush and a smear of fluoride toothpaste. When they grow older you can increase the toothpaste to a pea-sized amount. And as soon as you can, get them involved with learning to perform these vital habits on their own.
You should also limit your child's consumption of sugar. Our favorite carbohydrate is also a favorite of bacteria, who consume any remnants in dental plaque as a primary food source. So, keep sugary snacks and foods to a minimum and limit them mainly to mealtimes. And don't put a baby to sleep with a bottle filled with a liquid containing sugar (including formula and breastmilk).
Finally, begin taking your child to the dentist regularly by their first birthday for routine cleanings and checkups. Besides removing any hard to reach plaque, your dentist may also apply sealants and topical fluoride to help protect and strengthen tooth enamel. Regular visits make it more likely to detect the early signs of decay, before it does extensive damage. And beginning early makes it less likely your child will develop a fear of dental visits that could carry on into adulthood.
These and other steps will go a long way in protecting your child's teeth and gums so they develop normally. A little prevention and protection will help ensure a happy, healthy smile later in life.
If you would like more information on helping your child develop healthy teeth and gums, please contact us or schedule an appointment for a consultation. You can also learn more about this topic by reading the Dear Doctor magazine article "Top 10 Oral Health Tips for Children."
By George A. Solier, DDS, LTD
June 12, 2018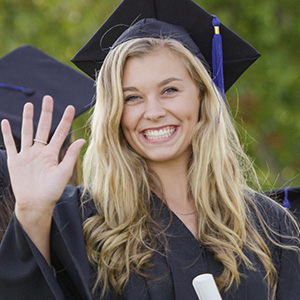 High school graduation marks the end of childhood and the beginning of young adulthood. Do you have a graduate in your family? If so, this is the ideal time to schedule a dental checkup and cleaning. Many graduates will be moving away to attend college, and an oral exam and cleaning now can help ensure that they will embark on this next phase of life in good oral health.
Is your graduate ready for the barrage of camera snaps? Long after graduation day, pictures of your graduate beaming in cap and gown will be on display. A professional teeth cleaning may be just what is needed for a camera-ready smile. The dental hygienist will use an electronic polishing tool to remove many stains from the teeth for a sparkling smile.
What's more, the dental hygienist uses special tools to get rid of plaque and tartar that can cause bad breath, a common concern among teens and young adults. Bad breath is primarily caused by poor oral hygiene habits, and the hygienist can check to see if your teen's oral hygiene routine has been too lax—and offer pointers if needed. It's never too late to form better brushing and flossing habits, especially if your graduate will soon be living away from home!
A dental exam will reveal tooth decay or gum disease, problems that will only get worse if not taken care of. Another reason why dental exams are important at this time is that wisdom teeth—or third molars—generally appear between ages 17–21. Although these teeth sometimes come in without any problem, many wisdom teeth become impacted and must be removed, so it's important to monitor them during regular dental checkups.
Take time to schedule a dental exam and cleaning so your graduate can march into a bright future armed with a big smile and the best oral health.
If you have questions about teen oral health concerns, please contact our office or schedule a consultation. You can learn more in the Dear Doctor magazine articles "Wisdom Teeth" and "How to Help Your Child Develop the Best Habits for Oral Health."